The cultural activities enhance the confidence level of students and allow students to perform better. Activities develop the personality. Rani Laxmi Bai Memorial School has always taken the lead to celebrate festivals, sports events, exhibitions, workshops, dance and music competitions and volunteering in the local community. Deepawali Celebration & Rangoli Competition
Deepawali Celebration & Rangoli Competition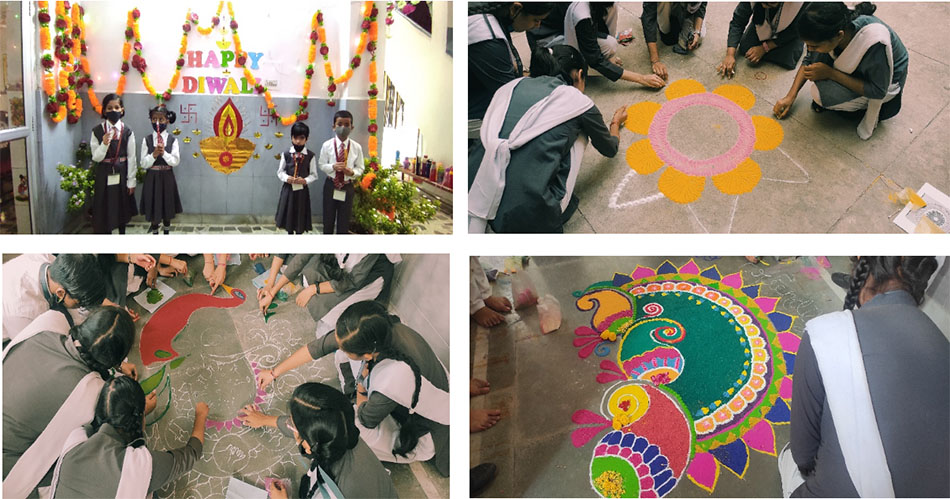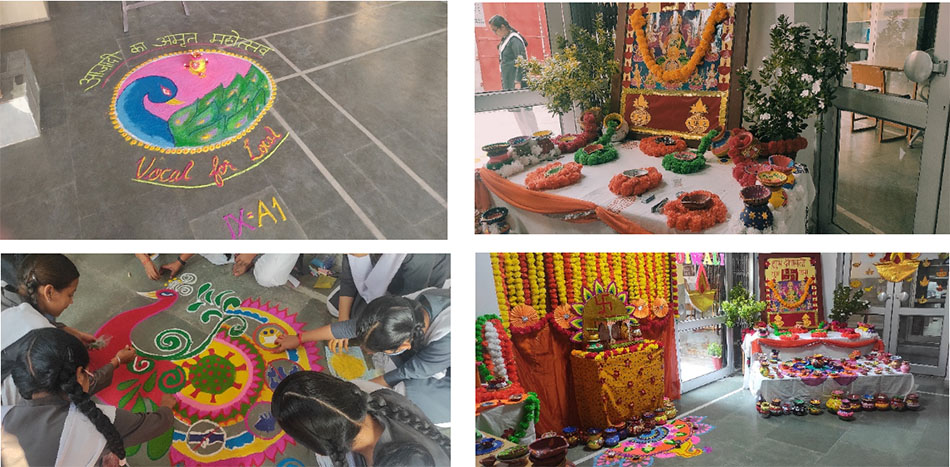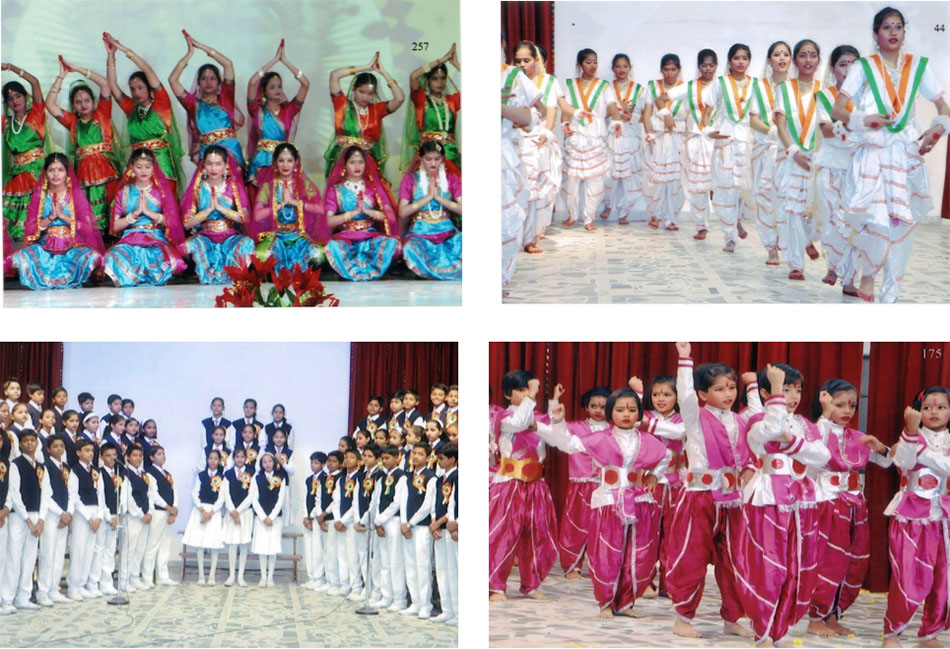 Craft and Science Exhibitions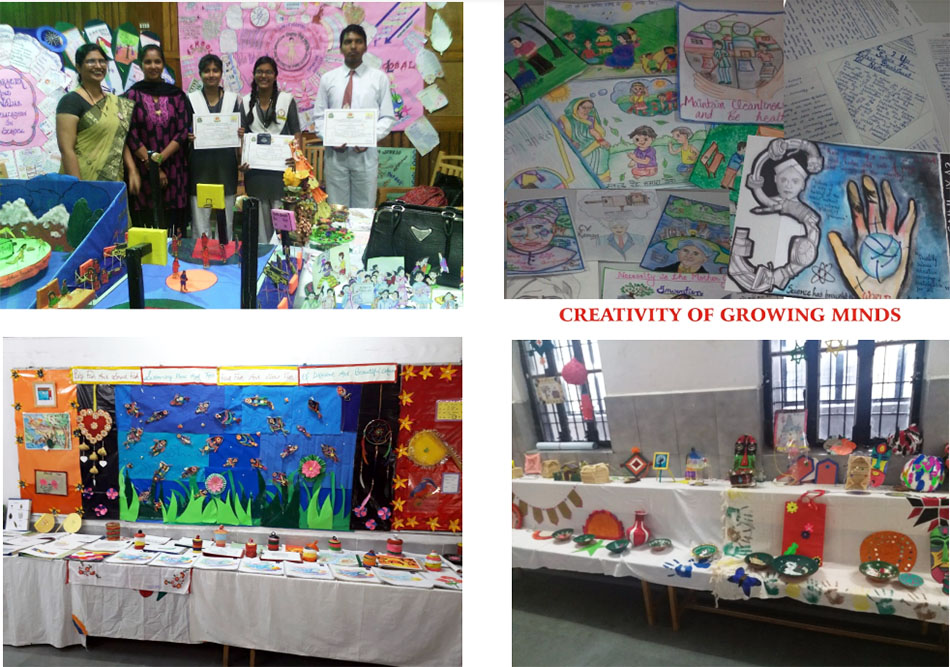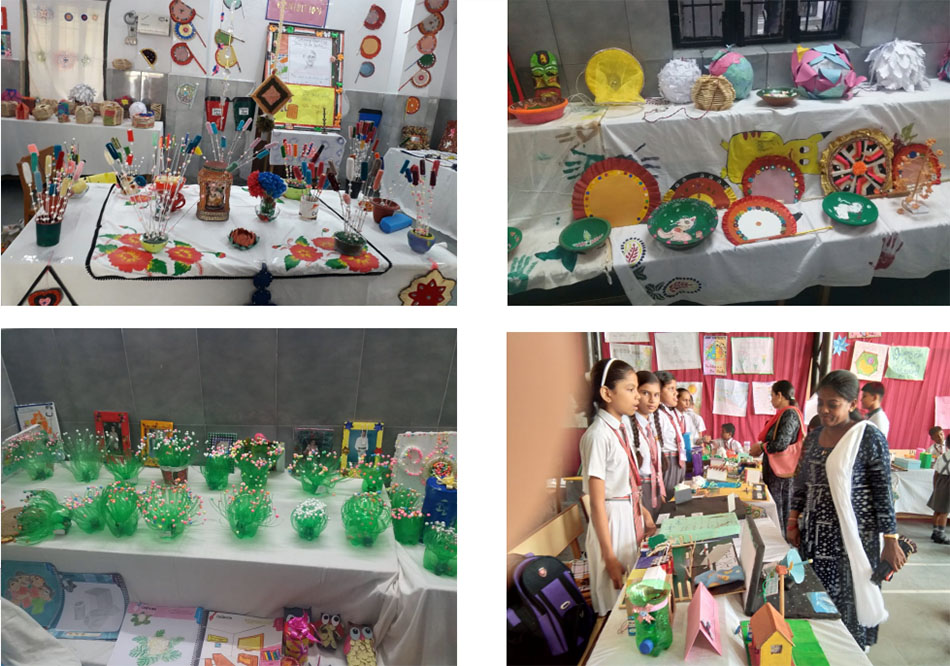 ONLINE CLASSES AND HEALTH & FITNESS CAMP HELD IN A VIRTUAL CLASSROOM
Rani Laxmi Bai Memorial Group Of Schools strives hard for the continuous development of its students whose success is built on the foundation of student centric learning and innovations that empower students to take responsibility in this dynamic and evolving world. The Corona Pandemic throughout the globe has brought everything to a standstill. Amidst the darkness of uncertainty the school has successfully tried to complement the traditional teaching method with modern online classes.
The unstoppable mission has been carried out since April to alleviate the distress of the students and parents related to the academic scenario under the inspiration and guidance of dauntless spirit of our visionary Founder Manager Sir, the most revered Shri Jaipal Singh and directions of honourable Director Mrs. Nirmal Tandon .The grateful response of the guardians and students has been overwhelmingly motivating. The teachers too have come forward with modules, innovations, teaching tools and techniques to reach out and guide the students. Two assessments were also taken to estimate the understanding of the students.
The school also initiated online virtual health and fitness camp from 3 June 2020 to 21 June 2020 to help children increase their energy in a positive direction during this unproductive time .Colourful videos of Yoga and physical exercises were uploaded to advise them to have proper routine, balanced diet and a healthy life. Thus it would certainly make our students balanced humans for facing the challenges ahead. On the whole the enterprise was a great success. Let us together create pathways for our students connecting local to global.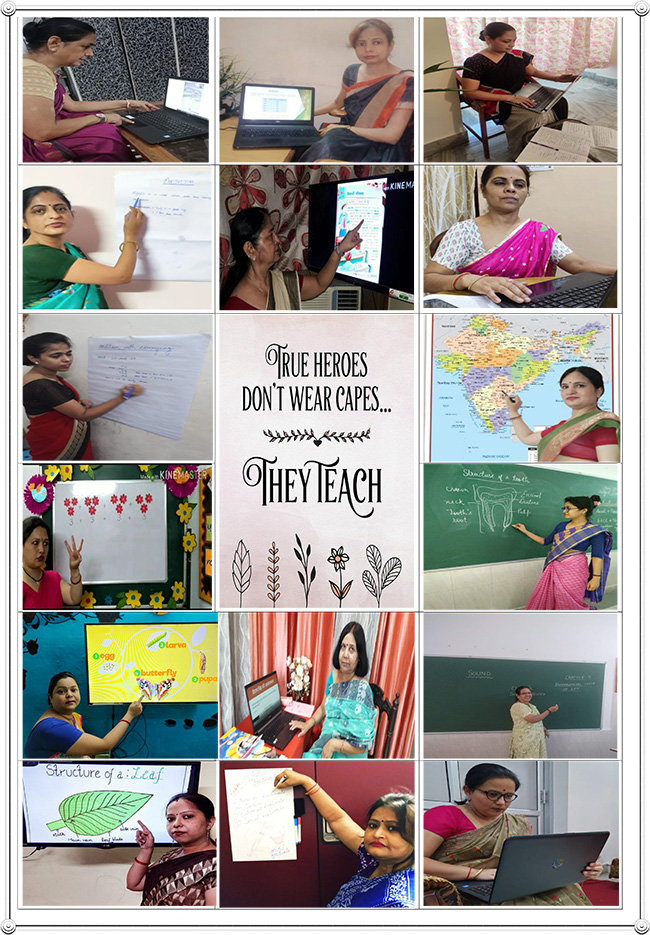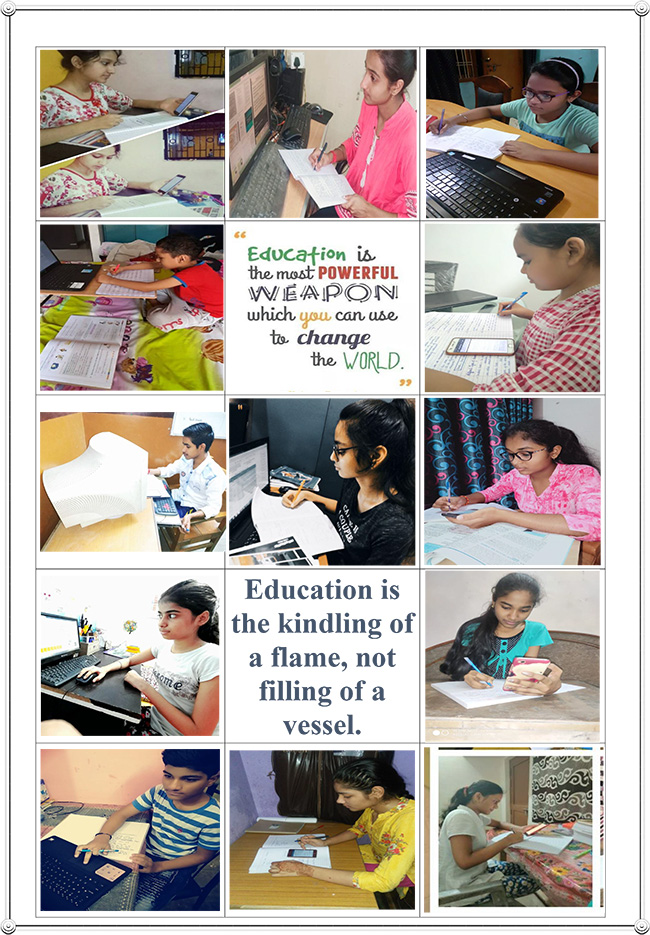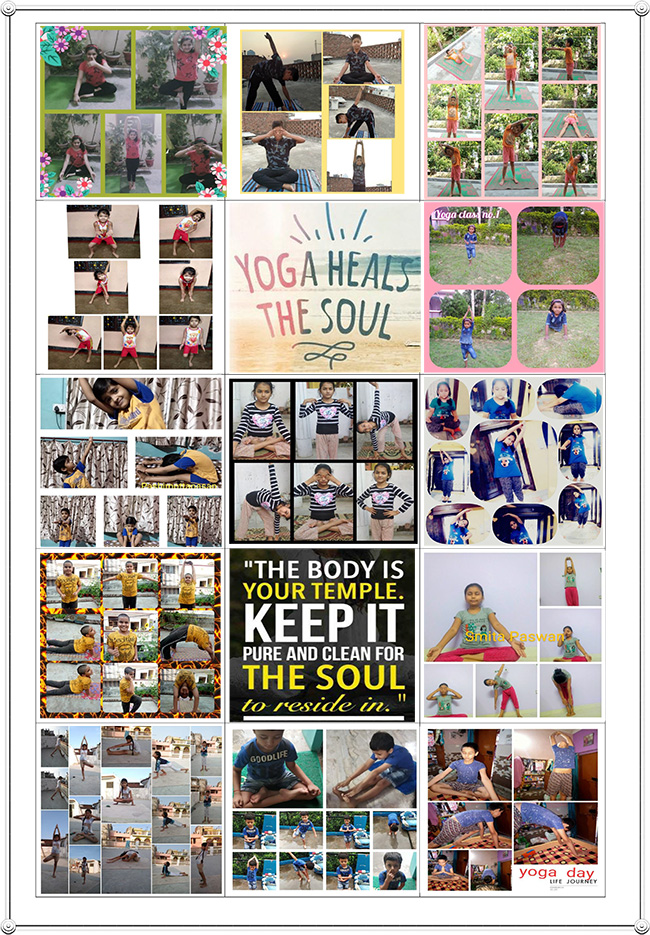 ANNUAL EVENTS & ACTIVITIES
Welcome of freshers– Like every year in this session also in July the freshers of Class IX and XI were welcomed in a grand and gala  fashion, where some cultural events of dance, drama and poetry were skillfully exhibited. The programme also searched new talents in different fields.
Kargil Vijay Diwas – 26th July It is the red letter day in Indian history. For the Rani Laxmi Bai Memorial Group of Schools, this day is more important as the ex-student paramveer chakra awardee Amar Shaheed Captain Manoj Kumar Pandey was the hero of Kargil Vijay who sacrificed his life serving mother India on 2/3 July 1999. It was the effort of Captain Manoj Kumar Pandey and many more that finally Kargil battle was won. In the memory of this day, school organizes cultural events every year. This year it was also celebrated with the introduction of all the four Indo-Pak wars and the Kargil heros. Dance drama, action songs and patriotic poems filled the audience and students with deep patriotism.
Bharat Chodo Andolan (Commemoration )– 9th Aug 1942, Quit India Movement  In the memory of this red letter day our circular on main events of the movements, mentioning important dates was given to all students on 8th August. On 9th August in morning assembly, they were asked to express their views on different events of the movement. Many of them responded very well. The programme was educative as well as entertaining.
Independence Day– The National festival Independence Day 15 was celebrated with great zeal and zest. The tri-colour National flag was hoisted by the Principal followed by National anthem. There were enthusiastic expression by student. Short skit and action song was also presented to make every one feel great affection for mother India. After the inspiring speech of Principal refreshment was given to all.
Teachers Day –The teachers day was celebrated with solemnity and gaiety in th Amar Shaheed Captain Manoj Kumar Pandey Auditorium of Sector-14 Indira Nagar. The Programme started with National Song, Saraswati Vandana and garlanding of the portrait of Dr. Radha Krishnan. Sri Jaipal Singh, Founder Manager commended teachers for the good work and as a recognition of their great work, he awarded them with fabulous prizes and merit certificates.
Gandhi Jayanti/ Lal Bahadur Shastri Jayanti Gandhi jayanti and Lal bahadur Shastri Jayanti were celebrated on 2nd October. Tributes were paid to them through bhajans, speeches presenting their life span and showing the relevance of their principles in contemporary era.
Exhibitions  Various models and project work in the field of science , social science , art and craft made by the children  were displayed to the their parents.
Inter Branch Competitions To keep the students updated and raise their confidence level high so that may find good exposure in tune with the needs of practical world. School hosts Inter Branch competitions including debate, quiz, essay writing and mathematical aptitude. These competitions cover a vast area of Commerce, Computer, Science, G.K., Languages and Literature skills with relevant, National, global and social affairs. Competitions are organized at all levels from nursery to class XII.  Winners and participants are awarded with fabulous prizes and certificates.
Annual Function   On conclusion of term examination, in the last week of November school celebrated annual function at two levels- junior and senior. Enthusiastically prepared, artistically staged programmes comprising regional and western dances, the play based on Life span of Bharat and Shabri , hilarious comedy, thought provoking satires, musical performances and inspiring plays from ancient history, enthralled the audience including media persons.
Around 300 to 400 high achievers including home exams and winners of Inter school competitions, along with their parents were honoured, putting across the message of academic brilliance.
Glorious Day for Indian Army (16th December) In the memory of historical  victory over Pakistan in 1971 , 16 Dec has been celebrated in form of different programmes including poetry and recitation, speeches and quiz competitions.
Subhash Jayanti – 23rd Janauary  In the memory of Netaji Subhash Chandra Bose, Subhash Jayanti is celebrated every year with great enthusiasm and zeal. Floral tributes are offered to the portrait of Netaji and the relevance of his principles is reiterated for the contemporary world today.
Republic Day
The school celebrates the Republic Day with much enthusiasm all to mark the importance of this occasion, different cultural programs are presented and inspiring speeches are delivered.
Bidding adieu
Every year a get together to wish good luck to class X and XII and bid adieu to class XII is organized in the midst of February. The captivating programs of dance and drama are presented by the students of class XI keeping their seniors enthralled and mesmerized. At last the refreshments are given which the students relish.
Summer Camps Special Summer sports Camp for Basket-Ball, volley-Ball and Tennis are also organized under the guidance of expert coaches and kind supervision of the principal.